Frank Lantry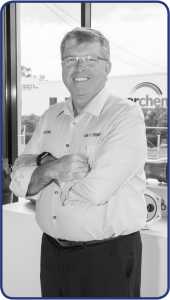 Frank Lantry is the Sales Director at AusProof. A qualified Electrical Engineer, he began career with AusProof in 2001, the same year he moved to the Gladstone Region.
He is responsible for obtaining and directing the sales for AusProof products in Australia and around the world. As a result, Frank is an active member of Australian Standards, MEMMES and Engineers Australia.
Frank prides himself on the safety and quality of AusProof products and increasing safety in the mining industry.
Memorable accomplishments include seeing the benefits to the Australian Mining Industry after they are standardised using the AusProof Couplers. Additionally, along side the Australian Standards to improve the safety and performance of Australian products.
Within the company, his proudest moment was winning and completing a major purchase order to supply the first overseas mine in Peru, South America. However, outside of work, Frank's greatest achievement is raising his two boys and maintaining his marriage despite all the travel he has done. He enjoys the time he has with his family and friends and holds his Catholic faith close to him.
A positive, reserved but excitable character of AusProof, Frank Lantry loves being part of a company that is a world market leader for high voltage couplers. Not only this, but a company employing locals and exporting world class product to other parts of the world.