AusProof CAT Skid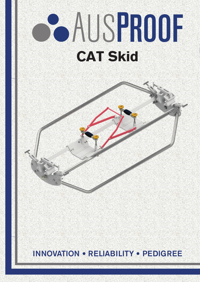 AusProof's CAT Skids have been designed to assist in the joining and alignment of couplers easily and a simple disconnection. As a result, AusProof's Research and Development team determined the innovative features from our previous skids and combined them to create the ultimate CAT skid.
Additionally, the new design allow 'mix and matching' for old and new style couplers by selecting cradle sets that are designed for each style of couplers.
Unique advantages include:
Align, join and disjoin easily.
Allows coupler to be rolled and protected without damage.
Purchase cradles as required.
Lift the coupler off the ground and improve safety.
Improve OH&S of handling couplers.