PL RANGE – Available in 660-3,300 volts, 300-425 amp, restrained plugs and receptacle – NEW FEATURE: QUICK RELEASE
Our PL range covers 300 – 425 Amp, with phase rotation to give 1100 or 3300 volts.
We also offer the 4 pin and 6 pin range.
The restrained plug and receptacle range is suitable for use in mining and commercial applications such as Group 1 hazardous mining operations, metalliferous mines and tunnelling projects. The benefit of the PS and PL options is that we can now offer the full suite of high voltage bolted couplers and low voltage restrained range.
Features

Quick Release – NEW
Single solid contacts
Easy termination
Easy flameproof repair
Full solid earth connectivity throughout product
Lightest product on the market
Full phase to earth segregation

Accessories

Silicone Protection Cover
Contacts Crimp
Contacts Soldered
Insulated End Cover
Technical Information
Specs

| | |
| --- | --- |
| Volts | 660 to 3300 |
| Amp | 300 to 425 |
| Receptacle Weight (KG) | 10.7KG |
| Plug Weight (KG) | 9.0KG |
| Material | Stainless Steel |

Test Results

AC HV Withstand
4.2kV – 8.6kV for 1 minute
Compliant to:
AS/NZS 1299:2009
AS/NZS 60079.0:2012
AS/NZS 60079.1:2015
Through Fault Current at 10 minute intervals
25kA for 0.2 seconds
25kA for 0.2 seconds
Temperature Rise
425A
Technical Manual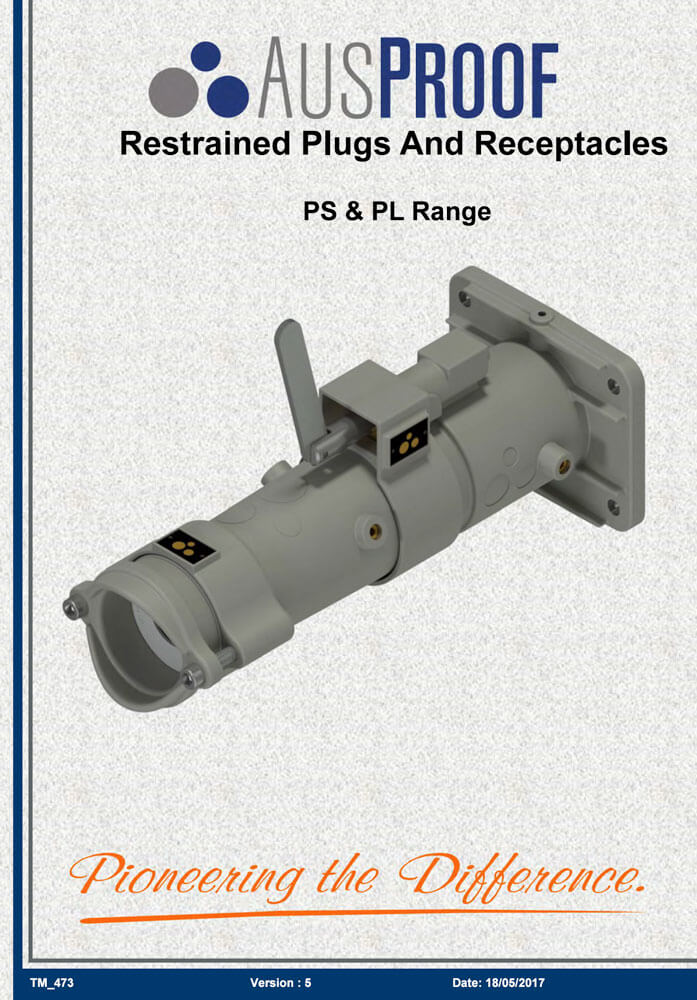 Download Manual
AusProof Product Range
Low Voltage
High Voltage – Open Cut
High Voltage - Flameproof